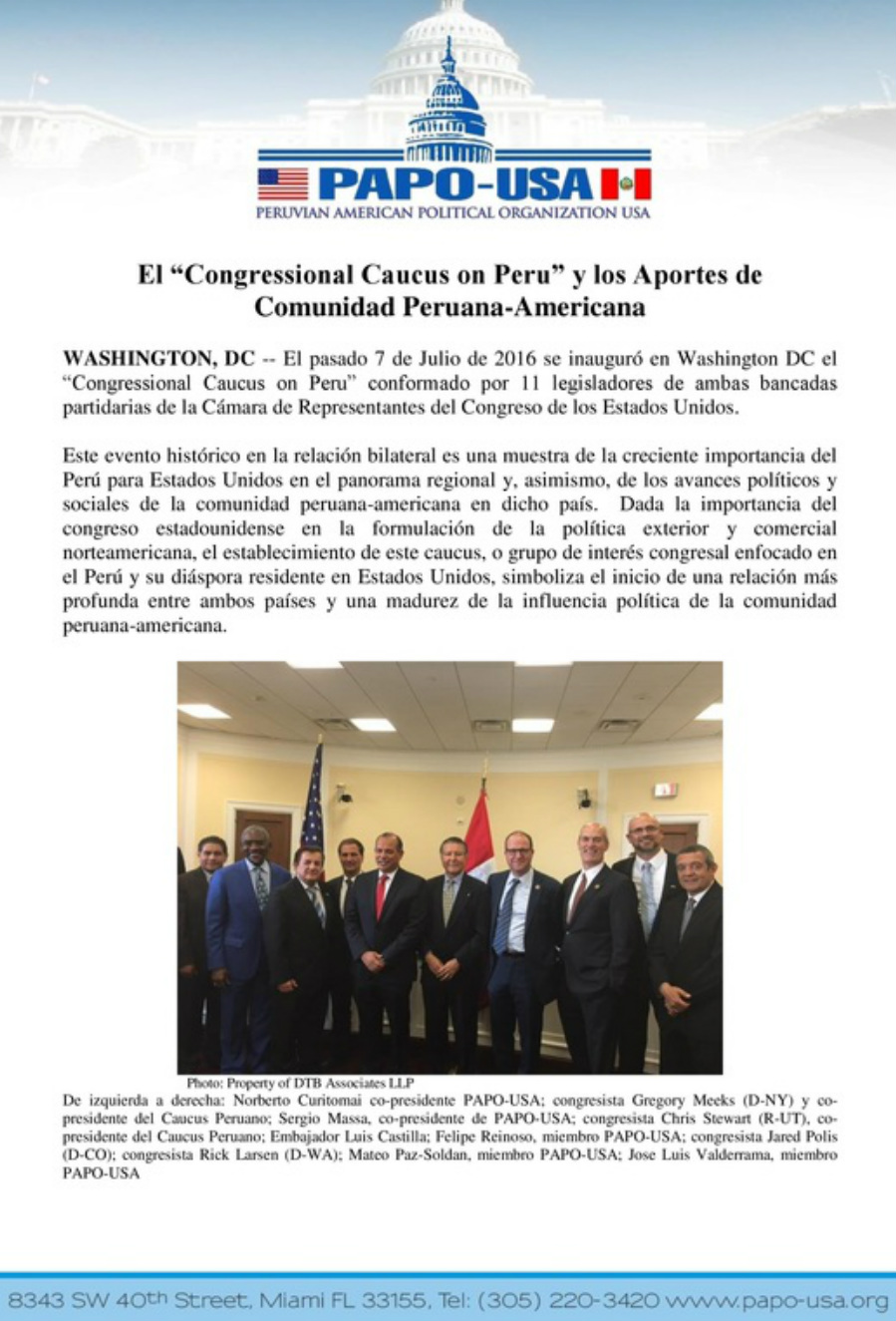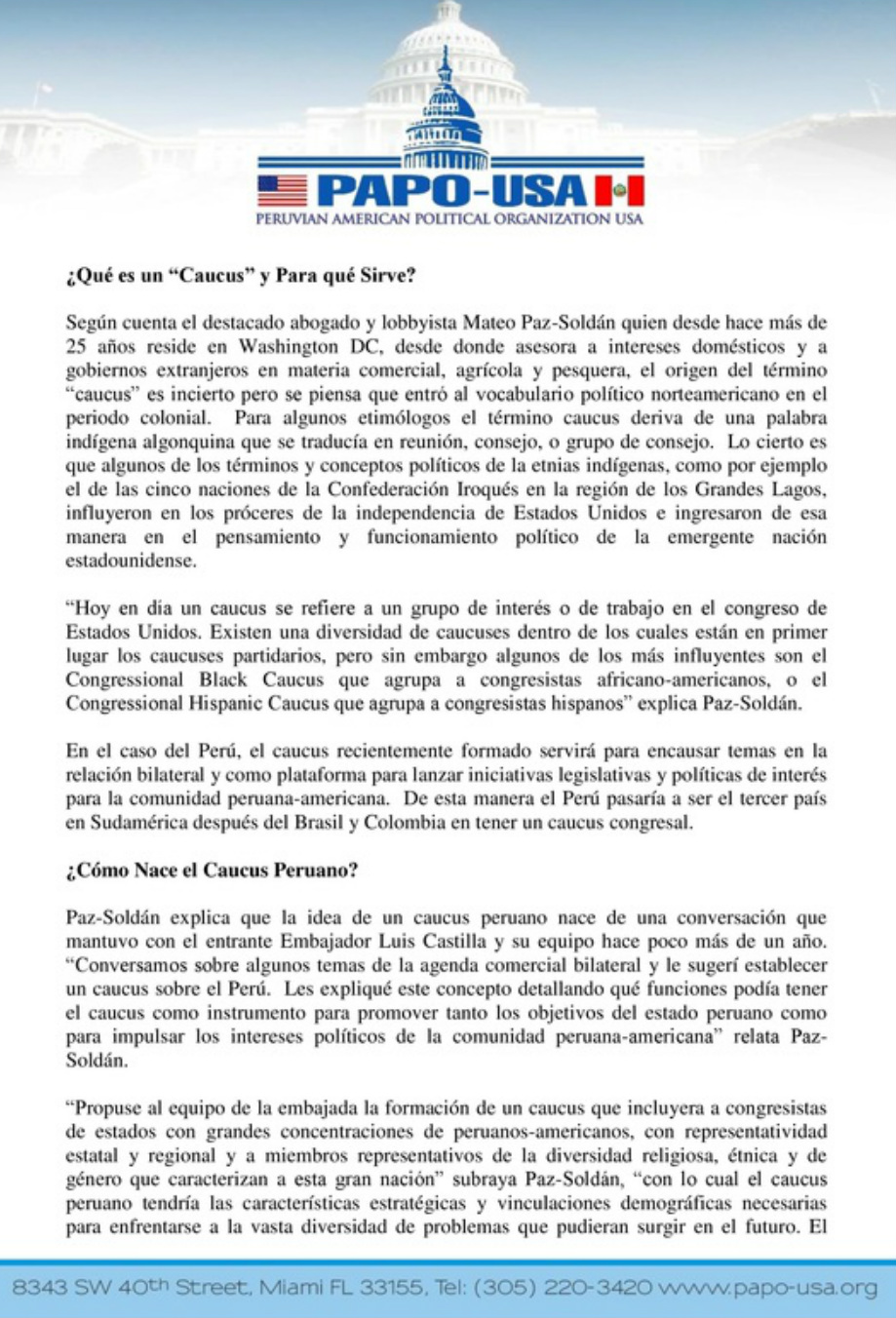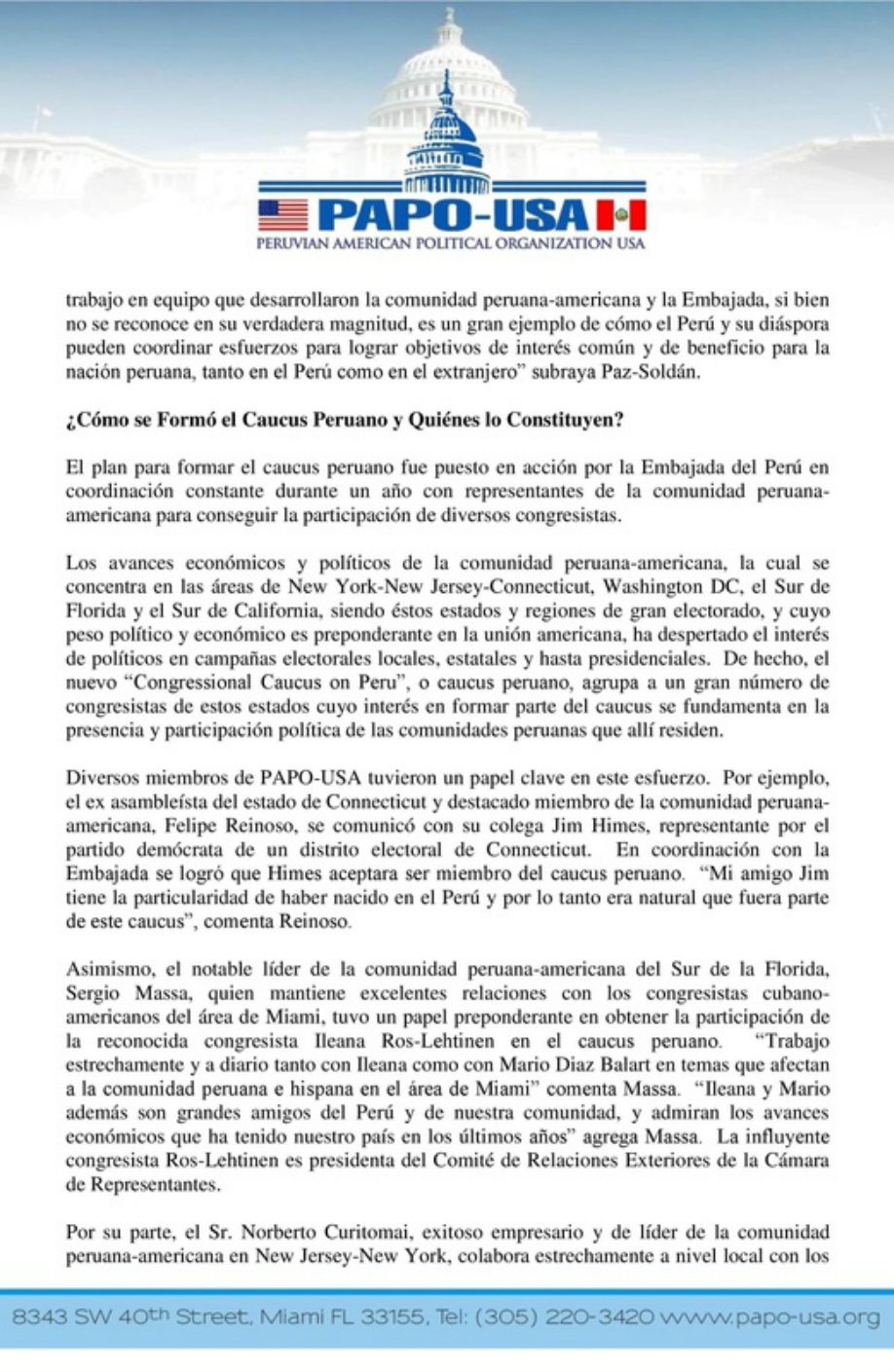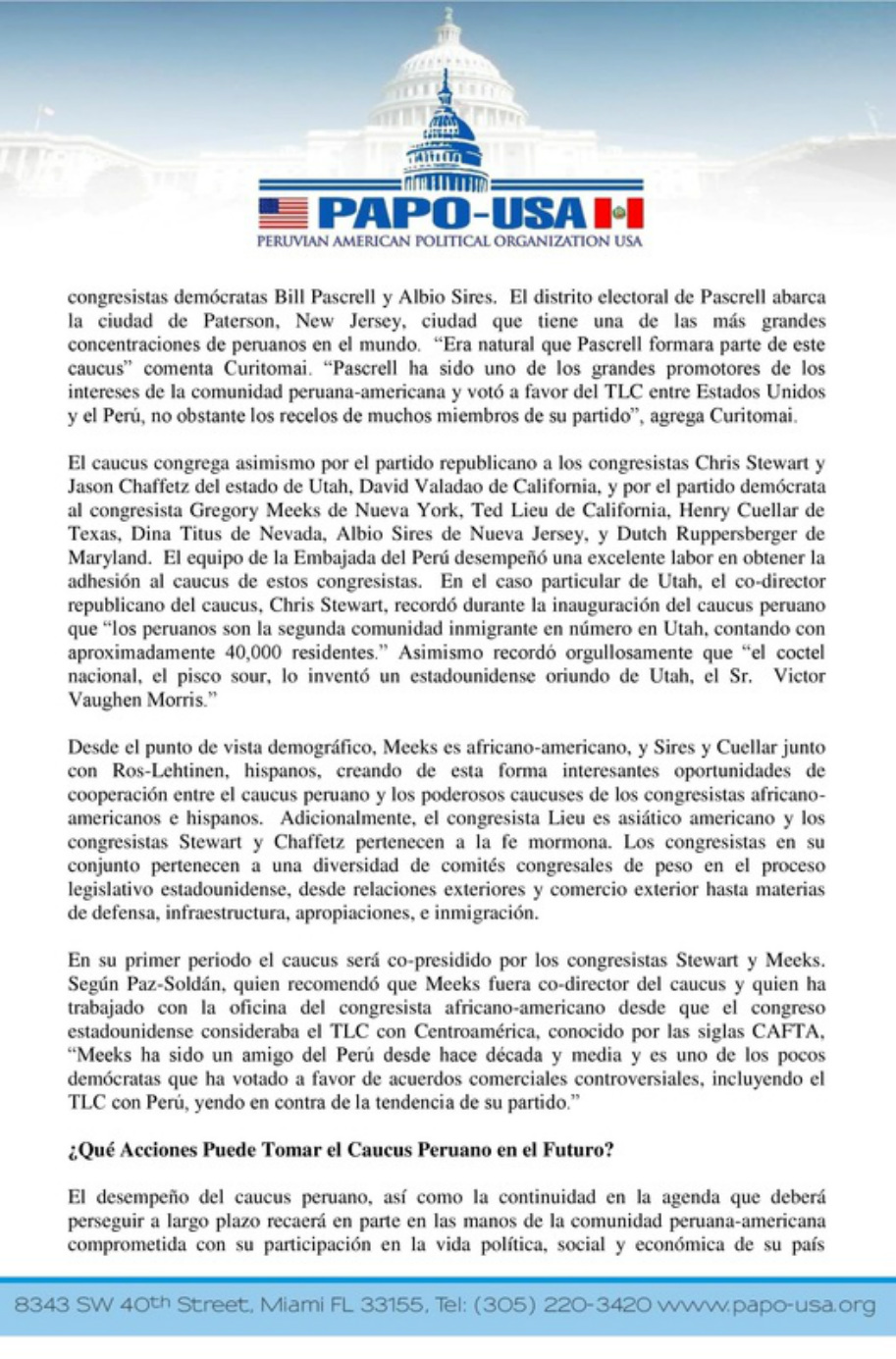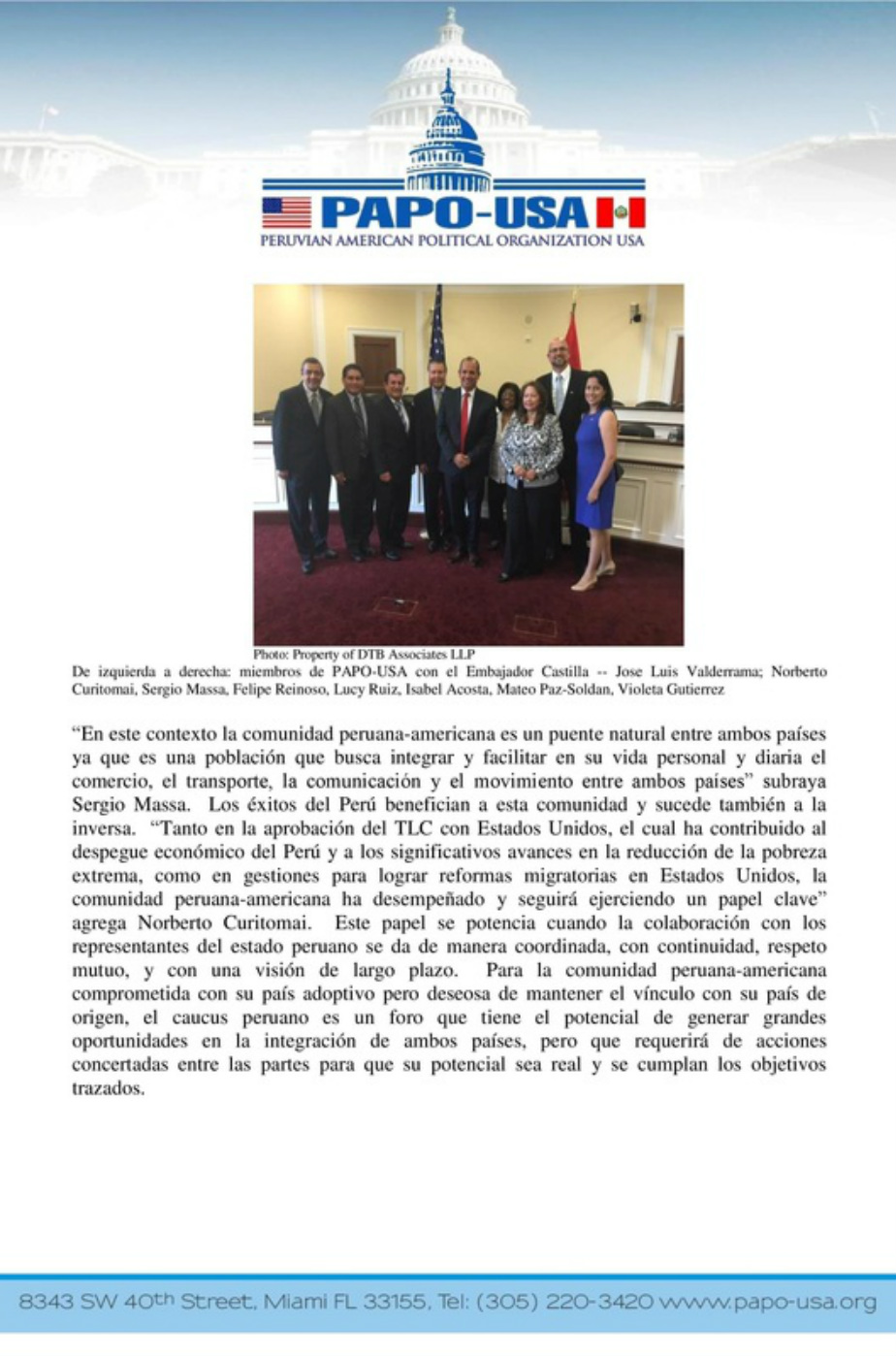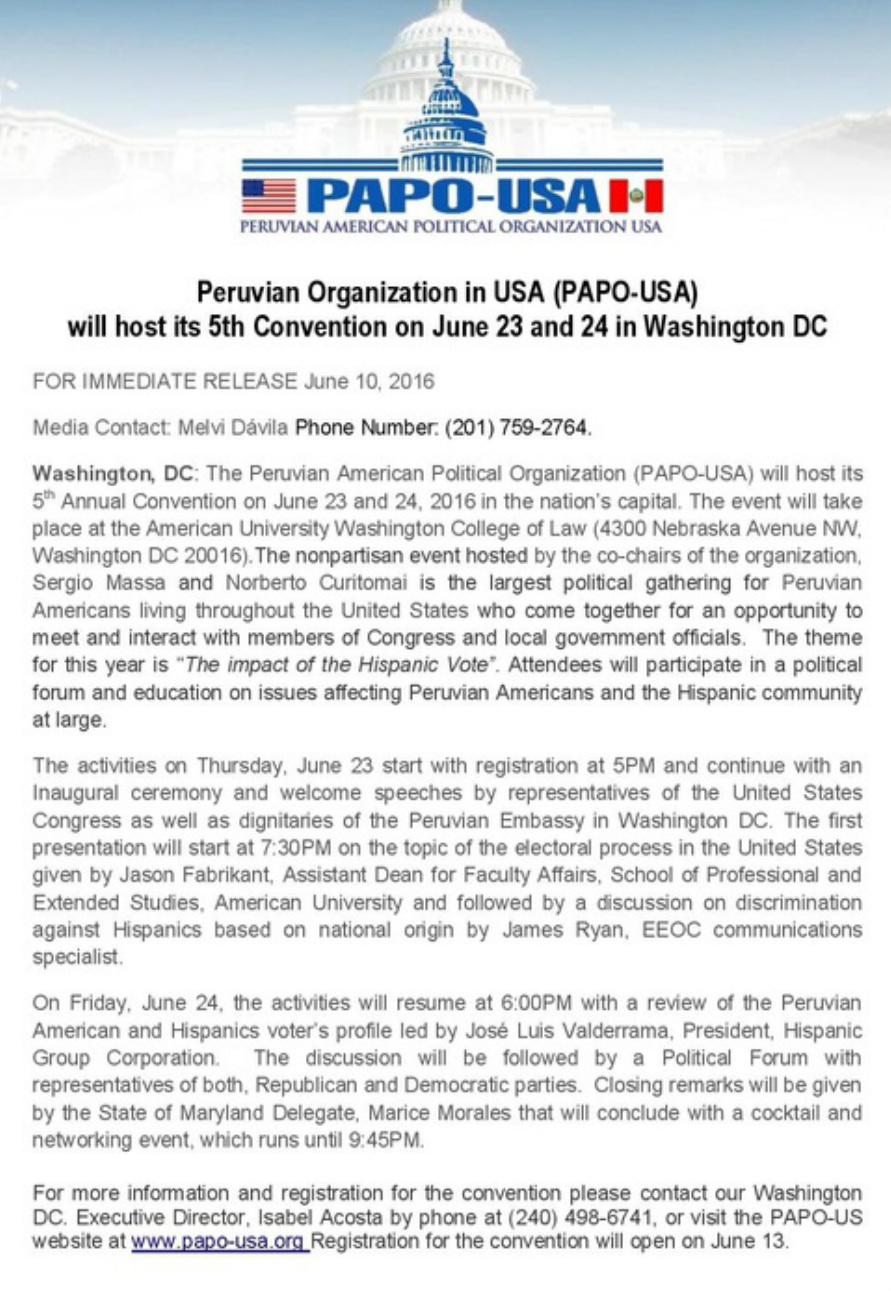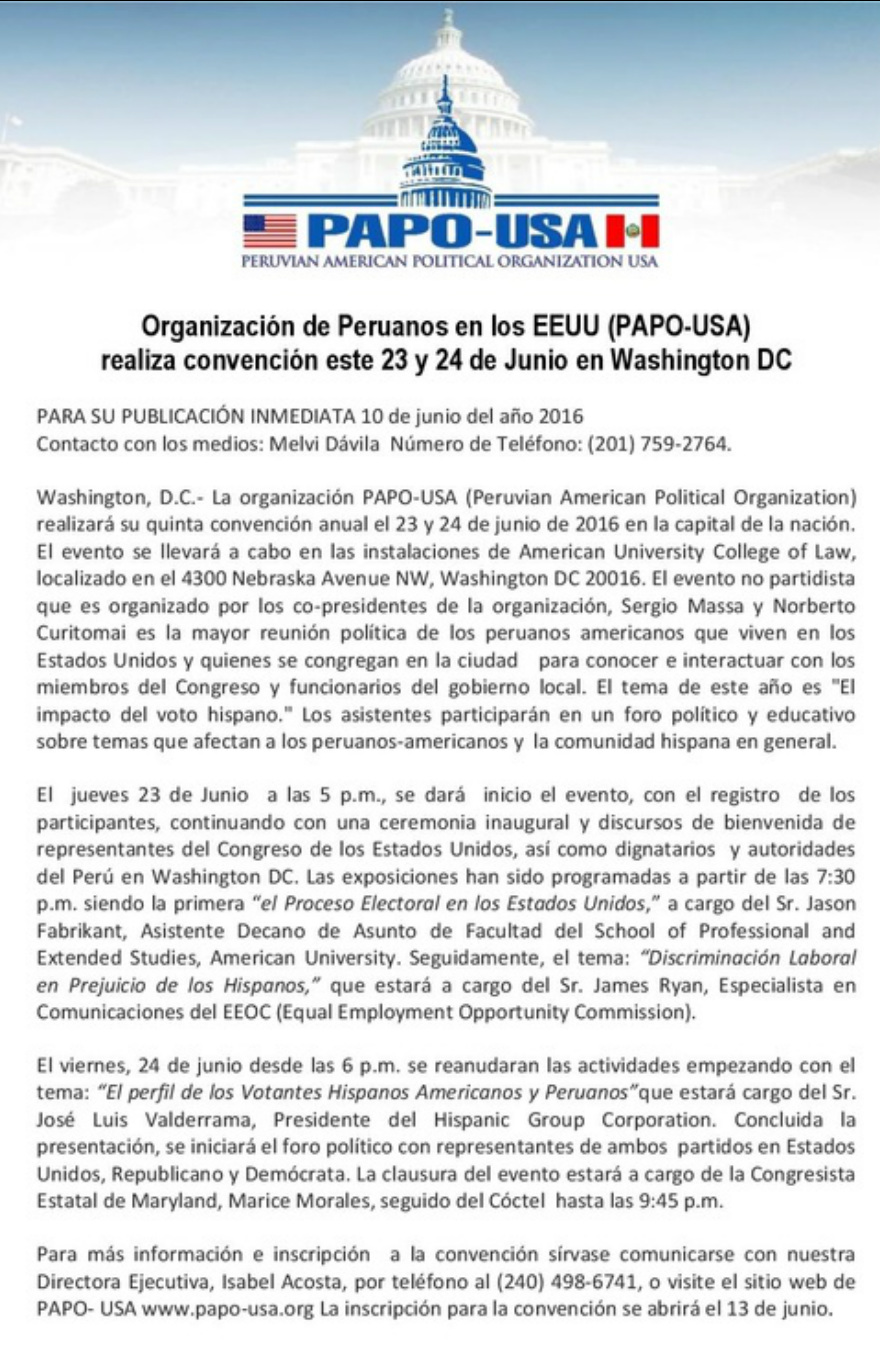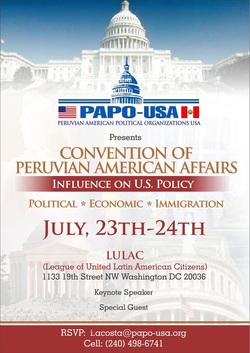 PRESS RELEASE
Peruvian American Political Organization to meet in Washington DC on July 23 and 24, 2014
CONVENTION OF PERUVIAN AMERICAN AFFAIRS
The Peruvian American Political Organization (PAPO USA) the most prestigious social and political organization in the nation for the Peruvian American nationals will meet in the nations' capital on July 23 and 24 to discuss strategic and goals for the upcoming year in order to promote the Peruvian American Agenda. This important event will take place in the headquarters of the League of United Latin American Citizens (LULAC) located at 1133 19 St NW Washington DC. 20036.
PAPO USA is a national organization that has representation in several states of this great nation.
Mr. Sergio Massa, co-chairman, and recognized Peruvian leader from Florida said: "PAPO USA is working together with LULAC, a recognized national civil rights organization, to help prepare the Peruvian American Diaspora living in the United States to participate more intensively in the American political process." He continues saying "cementing a strong relationship with LULAC for the purpose of sharing experiences is a plus for our communities."
Among the most important topics on this Year's convention, members of the two mayor U.S. political parties will present their views about immigration, national security and economics. PAPO USA leaders will also share their activities in their regions and present future plans in how to improve the Peruvian American participation in the upcoming national elections.
For any inquiries about agendas, guests and or any activity of PAPO USA in USA please contact Ms. Isabel Acosta, executive Director of this Convention, at
i.acosta@papo-usa.org
---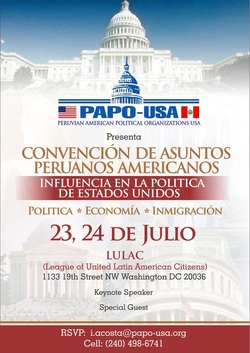 NOTA DE PRENSA
La Organización política Peruana Americana se reunirá en Washington del 23 al 24 de Julio del 2014.
CONVENCION DE ASUNTOS PERUANOS AMERICANOS
La más prestigiosa organización social y política Peruano Americano (PAP0 USA), se reunirá en la capital de la Nación el próximo 23 y 24 de Julio con el objetivo de discutir las estrategias y planes de acción para el próximo año , con la finalidad de promover la Agenda Peruana en USA. El importante evento se llevará a cabo en la sede de LULAC (League of United Latin American Citizens) sito en 1133 19 Street NW Washington DC 20036.
PAPO USA es una organización nacional que tiene representantes en diferentes estados de esta gran nación.
El señor Sergio Massa, Co-presidente, y reconocido líder peruano del Estado de Florida dijo: PAPO USA está trabajando juntamente con LULAC - reconocida organización nacional de los derechos civiles -, para ayudar a preparar la diáspora americana peruana viviendo en los Estados Unidos, con el propósito de tener una participación más activa en el proceso político estadounidense. Continua diciendo: "cimentando una solida relación con LULAC, compartiremos experiencias para un mayor beneficio de nuestras comunidades".
Los temas más importantes a tratar en la Convención de este año, estarán expuestos por miembros de los dos partidos políticos más grandes de USA, quienes presentaran sus puntos de vista sobre: inmigración, seguridad nacional y economía. Los líderes de PAPO, en la reunión, también compartirán las actividades que vienen realizando en sus regiones y futuros planes, para propiciar una mayor participación peruana americana en las próximas elecciones nacionales.
Para cualquier consulta acerca de las agendas, los invitados y/o cualquier otra actividad de PAPO USA en Estados Unidos contactar con la señora Isabel Acosta, Director Ejecutivo de la presente Convención, correo electrónico
i.acosta@papo-usa.org
---
III Convention PAPO-USA Washington 2014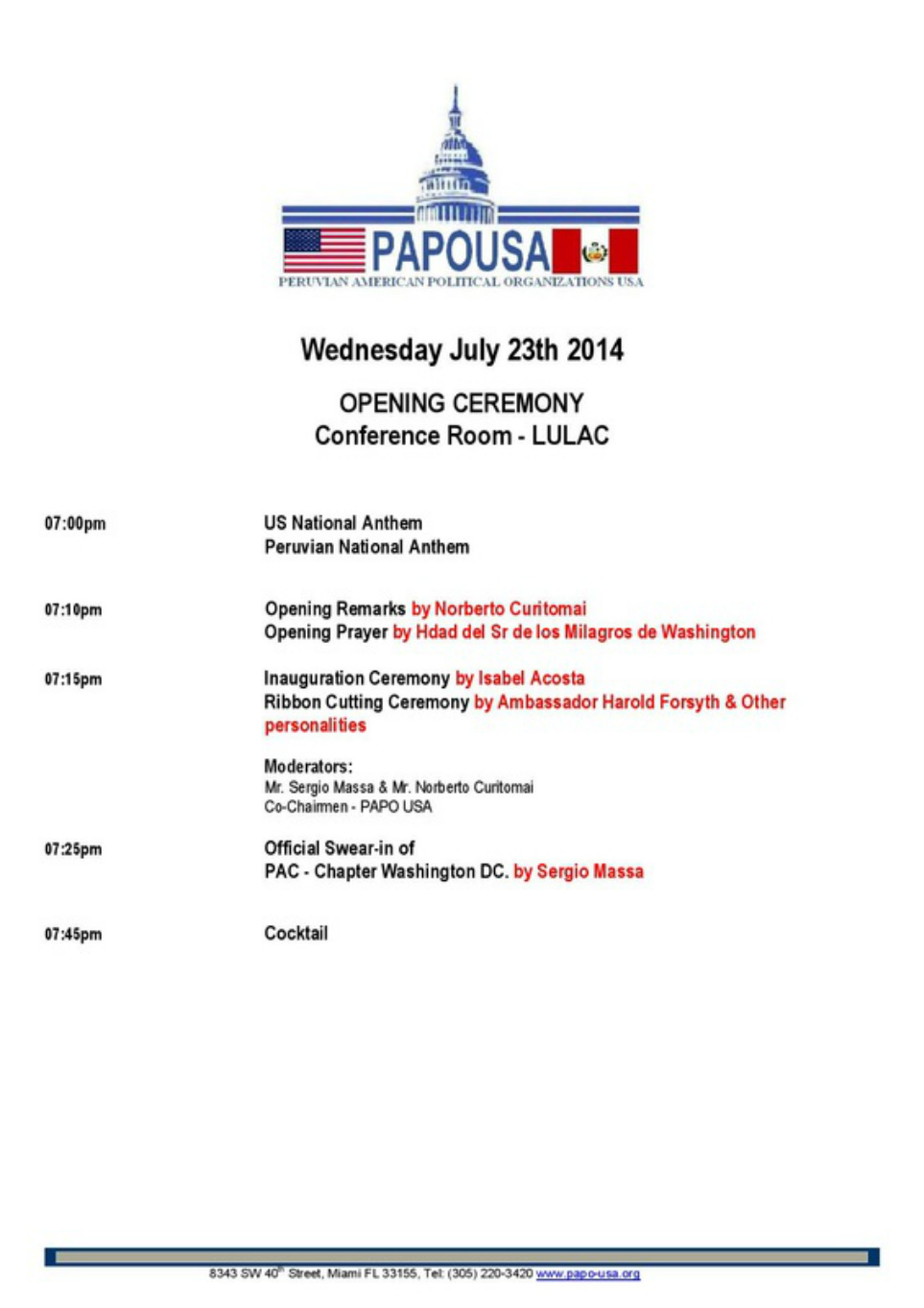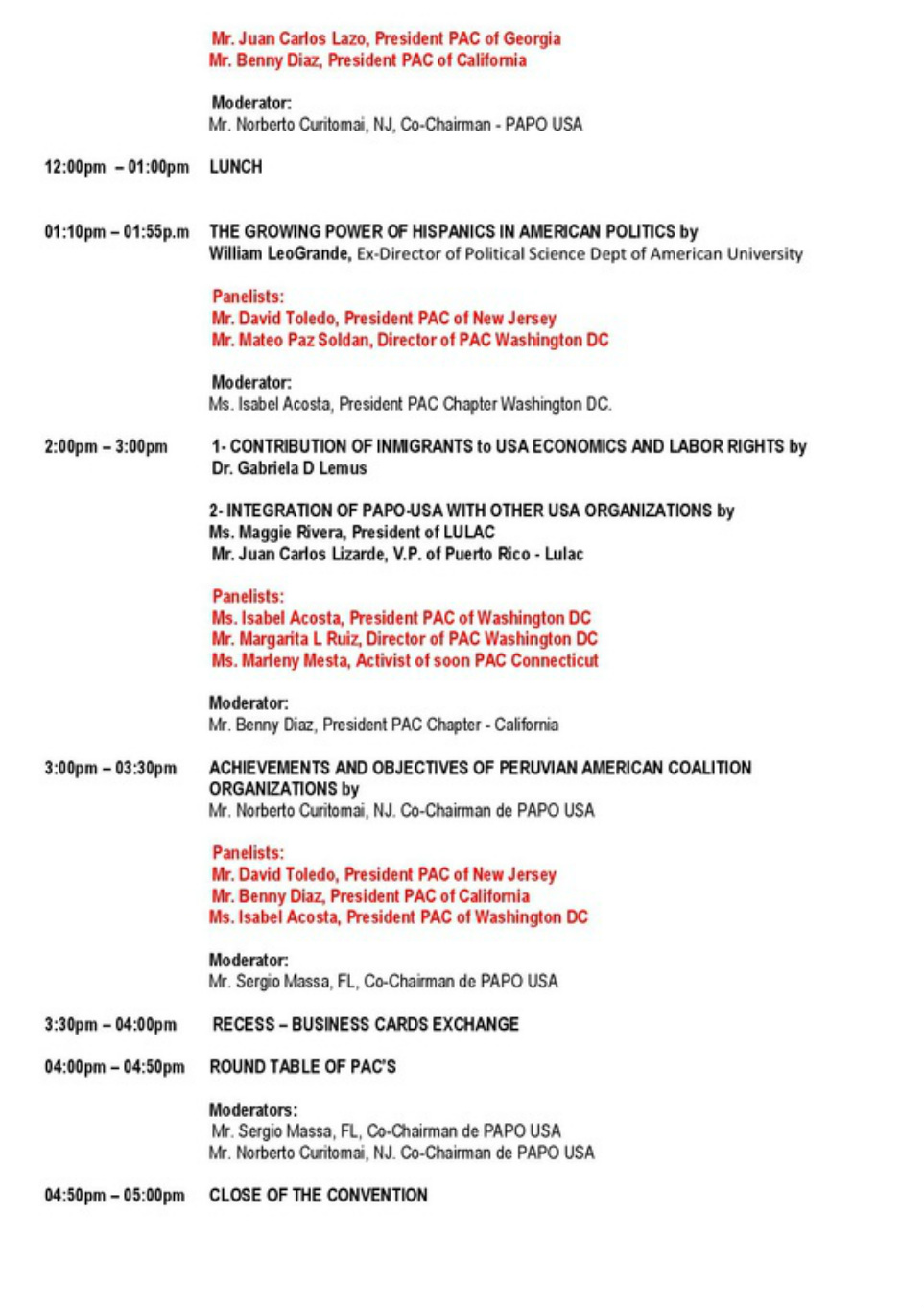 Juramentación PAC - CONNECTICUT‏
Juramentación PAC - GEORGIA
Juramentación PAC - CALIFORNIA
Juramentación PAC - LA FLORIDA